Burgas- The Centre and The Sea garden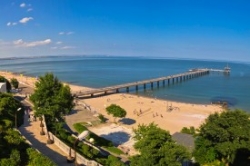 Burgas is the fourth largest city in the country and it was chosen to be the best place in Bulgaria to live in. Although it can't show you lots of historical sights, the central part of the city and the Sea garden are just lovely!
Take a walk in the centre of Burgas- green and alive. Mix with the crowd, have a cup a coffee on the main street or go for some shopping- you will never be bored in Burgas. Don't miss to stop at the Armenian church, the Sinagogue and the Sea garden to enjoy the view to the sea.
Info Burgas Walk
Distance from Nessebar port: 35 km
Distance from Burgas port: 300 m
Duration of the walk: 1.30 hour
Gallery